The North American Nature Photography Association (NANPA) aims to promote the art and science of nature photography as a medium of communication for nature appreciation and environmental protection. It runs an Annual Nature Photography Summit and Trade Show, together with regional events around the United States.
History
NANPA developed originally from a 1993 conference at the Roger Tory Peterson Institute, Jamestown, N.Y., attended by 100 leading photographers, editors, publishers and agents involved in nature photography.
Activities
In addition to its events, NANPA alerts photographers to key legal, political and environmental issues, and provides equipment insurance and discounts on products, magazines and services. The Members' Showcase is viewable by the general public.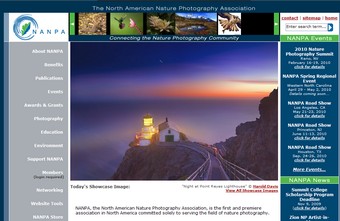 ---