Diji Album
Diji Album enables you to create electronic photo albums that look like real albums, right down to the optional photo corners. Its tools give you full control over layout, using multiple images, headings, rich text, and multimedia. You can paste text and images from editing applications or drag-and-drop them from Explorer. One key feature is full text searching within your album, enabling you to locate specific pages.
Common image editing functions include: rotation, cropping, and red-eye removal. You can send a "Diji Album" to friends as a self-extracting file, distribute it on self-booting CD-ROMs or post it to a web site using exported HTML. There is also the option to display the album as a slide show, complete with background music, page flips and other effects.
Comment
Diji Album is no longer indexed from the main home page at the Xequte web site, but you can still purchase a copy if you wish. A review for it on Great Canadian Reviews said it "should be triple the price," and other reviewers have also written warmly about the product. It even won five stars in the UK Sunday Times.
Although the product looks a little dated because it is not a "designer product" with slick graphics and an ultracool interface, it gets the job done in a straightforward way, without clutter or too many options. Many people may still wish to use it.
Tech info
OS: Windows 95 onward
Price level: Approx. $40
Xequte Software is a software development company, based in Johnsonville, New Zealand. It concentrates on utility and multimedia software, including image handling and management.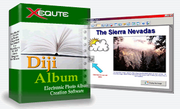 From the same vendor:
Amaze (multimedia screen saver)
DVD PixPlay
MailList King
MegaView
Smart Pix Manager
Text Lightning
---